WELCOME!
________________
DEAR YOUNG AND OLD READERS!

WELCOME to the UKRWUNDERKIND online bookstore!
We are LOCATED IN GERMANY and offer high quality BOOKS IN THE UKRAINIAN LANGUAGE to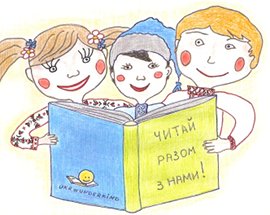 All readers especially the young from all over Europe.
All our books have been SPECIALLY SELECTED. They have received numerous rave reviews and also have been praised and recommended by children and parents in Ukraine.
To give You THE QUICKEST ACCESS TO THE BOOK You are looking for, our items are listed in alphabetical order and sorted according to the following categories: AGE of the readers, TITLE of books, AUTHOR, PUBLISHER and by LITERARY genre.
You will appreciate our LOW SHIPPING PRICES and short delivery times. If You order for more than 39 € within Germany, more than 140 € within the EU or more than 190 € to any other country in Europe, delivery is free of charge.
You can ORDER via our website, e-mail or over the phone.
For Your comfort, we run this online shop in THREE LANGUAGES: Ukrainian, German and English. Thus, You will get the opportunity to gain an insight into Ukrainian literature and, in particular, to get to know the fascinating world of Ukrainian children's books.
Should You have any questions, comments, or suggestions on what books you would like to view, please write to us! WE APPRECIATE YOUR FEEDBACK and we will do our best to assist You!
To YOUR WONDER KIDS we wish wit, health and good luck!
HAVE FUN RUMMAGING IN OUR UKRAINIAN BOOKSHOP!

--------------------------------

Dear visitors of our shop!

We are very grateful for your inquiries, your orders and your support!

Unfortunately, we cannot deliver our books to private individuals at the moment. But that can change. Please, visit our shop soon again!

The need for Ukrainian literature is huge, our current stocks are limited, in the current situation we are working on the issue of replenishing books from Ukraine... Now we are trying to distribute the books available fairly. At the moment we only deliver to libraries and places where many Ukrainians live together. We have already planned our own book online lending of the library-type so that as many Ukrainian children as possible could benefit from it. If you would like to support us with a donation, please send us a short message!
Thank you for your visit!
Slava Ukrayini! Glory to Ukraine!

--------------------------------
Current information for LIBRARIES:

- Books can be purchased on account
- It is best if you send us an e-mail with your book requirements (e.g. target group, genre), the desired number of books and/ or the sum available to your library. We will contact you as soon as possible.

--------------------------------

Latest news from Ukraine in English https://www.ukrinform.net/
https://www.kyivpost.com/

UNITED UKRAINE !
SLAVA UKRAYINI! - HEROYAM SLAVA!

--------------------------------
Listen to our song on YouTube: http://www.youtube.com/watch?v=781cSETa5sg !


Our advice
{{#.}}
{{/.}}